Canon 50mm f/1.8 II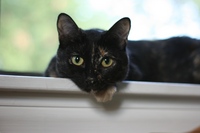 First, let's get a few things out of the way: this is a cheap lens. It is made of plastic (including a plastic mount), it feels cheap and light, and it probably wouldn't stand up to a hard pounding. Its manual focus ring is small and inconvenient, and its autofocus motor is loud. When it hits the end of the focus range, it sounds like it hits a brick wall. This lens will win no design awards.
That said, it takes great pictures. It takes beautiful pictures even when you don't mean to take beautiful pictures. It works fine in normal light, but it excells in very low-light situations. Just crank your digital ISO up to 1600 and fire away. The pictures it creates are sharp and clear, and the focal length is a good general-purpose one for carrying around.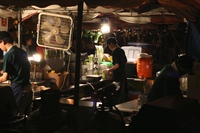 This lens is also a lot of fun to use. It is tiny and light, making it easy to travel with and carry around all day. It also makes it much less intimidating than larger, heavier lenses, so it is easy to use in tight and/or camera-shy situations. I've several times packed this as my only lens on weekend trips just for the lightness and fun challenge of fitting everything into its point of view.
Of course, it isn't the
perfect
lens, but it is close. The biggest complaint I have about it is that its effective length ends up being a little long when attached to my 1.6 crop factor digital camera. In most cases that isn't too big of a problem, but it can make taking tight indoor shots (where you often need the 1.8 aperture) difficult.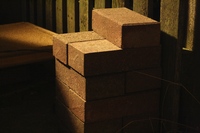 In the end, this is definitely the most-fun-per-dollar lens I have ever played with. For the price I highly recommend it to anybody looking for a new toy to play with. The feel of the lens will live up to the "toy" status, but the pictures you can get out of it are pure gold.
Sample shots